No time to watch surveillance video? Try a remote video audit
By Douglas Wong
Product Manager, Vertical Software Applications
Question:I own several fast food restaurants and I've been hearing a lot lately about remote video auditing services. Can you explain what these services are and how they can help my business?
Answer:Remote video audits are one of the quickest, most convenient ways for busy quick service restaurant (QSR) owners to evaluate their operations, compliance and security practices. Generally, an audit involves a team of trained professionals reviewing your surveillance video against set criteria, often created with your help. The auditors then report back to you on their findings.
Audits can focus on loss prevention issues – such as a case of suspected employee theft – or operations, compliance and safety issues, or a mix of all of these things. As the business owner, you can determine the types of things you want to monitor.
If you're using March Networks' Searchlight for QSR powered by 360 iQ solution, we'll work with you to create 10 yes or no questions to use to conduct the audit.  Questions could include things like:
Did all employees appear to be wearing the correct uniforms?
Did the kitchen area appear clean and tidy?
Were all orders processed correctly at the POS?
Our auditors answer the questions based on their observations of the video, and present you with a copy of their findings, which includes video images and receipts. Audits are conducted once per week at a random time. At March Networks, we call these "Snapshot" audits, because that's what they are – a quick snapshot of how your business is performing at that particular moment in time. Over the course of several weeks, you can compare audit results to see if performance is trending up or down.
Working with restaurants that have conducted Snapshot audits, I can tell you they are extremely beneficial to the business owner. Audits often uncover long-standing issues that would otherwise have gone unnoticed, and that could have possibly already impacted profits.
Here are just a few of the benefits a typical restaurant owner can expect from a remote video audit:
Increased efficiency 
Video audits save you time because the work is done for you. You don't have to physically visit each site, or watch hours of surveillance video; you simply tell an auditor what your concerns are and the professionals will do the monitoring and investigation for you.
In addition, audits increase your business's efficiency by helping you ensure staffing levels are correct, and staff time is being used wisely.
Less food waste
An estimated 4 to 10 percent of food purchased by restaurants goes to waste. That's a lot of money that could be going back into your business. With a remote video audit, you can gain a better understanding of what's happening with food preparation and how you might improve these processes.
Is staff over preparing food? Are portion sizes correct? Video can help you monitor these things, and also train staff on the best way to cut down on waste.
Improved customer service
Video audits can help ensure uniform customer service standards across all of your locations by letting you review interactions with customers. It can also help you understand the circumstances around a service issue. Did a particular order take longer than usual because it was a very large group? Or is more employee training required to process orders in a timely manner?
Increased compliance
Food safety is a primary concern of any good restaurant owner. Video audits allow you to conduct random checks on how well employees are adhering to food safety standards. Are all employees wearing gloves and hair nets during food preparation? Is product being refrigerated in a timely manner? Is the kitchen area clean and tidy? Video audits can answer these questions and more.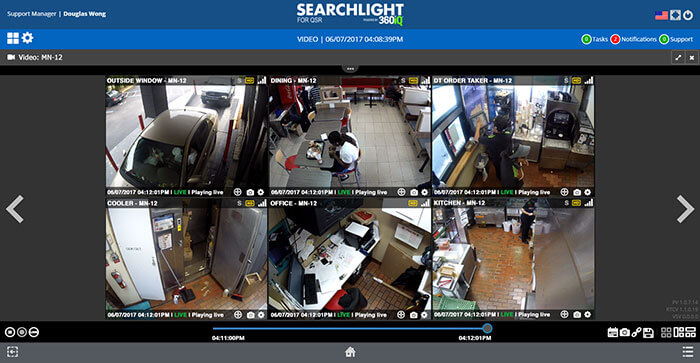 Remote video audits give you access to regular video images from your restaurants, so you can monitor operations, compliance, health and safety issues and more.
Reduced shrinkage
It's estimated that employee theft accounts for as much as 75 percent of all restaurant shrink. Theft can take many forms, from sweethearting and discount abuse, to outright stealing from the point-of-sale (POS).
Video audits can put a stop to this behavior by alerting you to suspicious transactions. Audit software that integrates video with POS data – like March Networks' Searchlight for QSR – is particularly effective because it gives you comprehensive oversight of all transactions, and lets you search and sort transactions by type, employee, product, date, time, and more.
Pair this ability with trained auditors who know all the tricks of the trade when it comes to internal theft, and you've got a surefire system for safeguarding your profits.
What appears to you to be a random transaction could in fact be theft, and a video audit can quickly show you why.
If an audit does uncover a serious problem, depending on the provider you're using, your auditing service may be able to provide some assistance.
With the March Networks Searchlight for QSR service, for example, you can request an Incident Report, which is a more thorough investigation than a Snapshot report. Incident Reports dive deep into the issue. Expect to receive pages of "exhibits" including video images, transactions, dates, times, and descriptions of what took place. This can be very helpful if you need to provide evidence to authorities or involve your HR department.
Now that you have a better understanding of what remote video audits can offer, you may be ready to engage a service provider. To learn more about March Networks Searchlight for QSR, watch this video, or request a free, no obligation demonstration.
---
Topics: Food Cost Management, Loss Prevention, Operations Management, Security Systems
Companies: March Networks
---
---
Related Content
---
Latest Content